June is LGBTQ+ Pride month!
But…why exactly? What is the meaning behind it?
Parents, let me tell you…
Remember when it was illegal to dress in drag? You may, or may not.
Sadly, it wasn't that long ago.
Likely, if you weren't part of the LGBTQ community before your kid came out to you as trans or nonbinary, you likely wouldn't have paid much attention to the history of the Stonewall Rebellion of 1969.
In that aspect, you aren't alone.
Being a parent of a trans kid means you're also part of the LGBTQ+ community! And you get the privilege of learning more about the significant history of Pride month, and how trans trailblazers fought for trans rights, often at their own expense. Their brave pioneering spirits have paved the ways for our kids to more safely and confidently express themselves and live as their authentic selves in the world.
Those from the past fought hard to protect and support the rights of future generations. It's time we learned more about this monumental time in history, and of these magnificent individuals who fought with everything they had.
HOW IT STARTED
Henry Gerber founded The Society for Human Rights–America's first gay rights organization in 1924, though they were forced to disband less than a year later due to police raids and harassment, and Henry's subsequent arrest.
The few public newsletters they were able to publish before then inspired the creation of The Daughters of Bilitis, America's first lesbian rights organization, in September 1955.
The LGBTQ+ fight for rights continued, and into 1966, another gay rights organization called The Mattachine Society organized and publicized a "sip-in" in which members openly declared their sexuality at bars and clubs, daring staff to turn them away, and suing establishments that did just that.
Once the Commission on Human Rights ruled that gay individuals had the right to be served in bars, police raids lessened…for a while.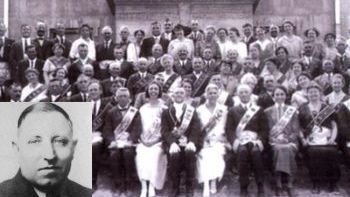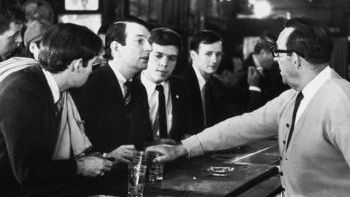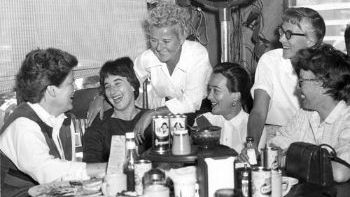 L: Henry Gerber (inset) & Members of The Society for Human Rights 1924; M: Members of The Daughters of Bilitis 1959,
R: The Mattachine Society's "sip-in".
THE STONEWALL INN
The Stonewall Inn, like many gay establishments, was owned by the mafia who capitalized on catering to marginalized gay clientele, and as long as they made a profit, they didn't care much about what else was going on inside.
By June 1969, the Stonewall Inn was one of the most popular gay bars in New York City's Greenwich Village. Like many mafia-run gay bars, Stonewall Inn cut corners by operating without a liquor license and was regularly raided by police.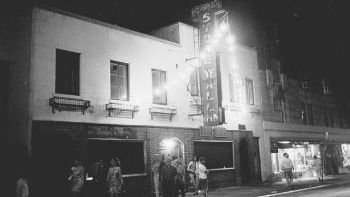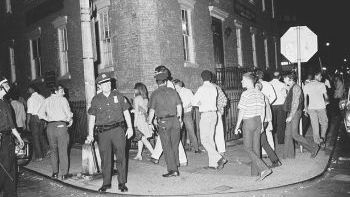 L: The front of The Stonewall Inn. R: Police and patrons near the Stonewall Inn;
Mafia owners would pay corrupt police to look the other way and also blackmailed wealthy gay patrons by threatening to 'out' them to their families or publicly. In turn, police would tip off mafia owners before a raid, giving them time to hide the bootleg alcohol. Police raided the Stonewall Inn an average of once per month, and they'd already been raided earlier that week.
But everything changed the morning of June 28th, 1969.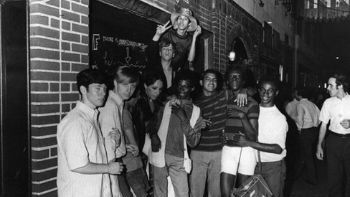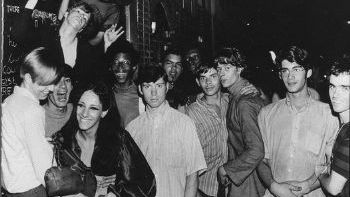 Patrons hanging out in front of the Stonewall Inn.
'WE'RE NOT GONNA TAKE IT ANYMORE'
Though police raids and harassment had become the norm, the owners of the Stonewall Inn weren't tipped off about this specific raid as they usually were, and police arrested 13 people after finding bootleg alcohol and people violating the state's gender-appropriate clothing laws.
Worse, female officers would take trans women into the bathroom to check their anatomy.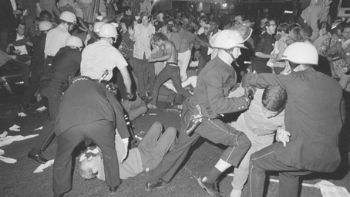 Police clashing with protesters on June 28,1969 at Stonewall Inn
Patrons of the Stonewall Inn and residents of the surrounding neighborhood were sick of the aggressive harassment and abusive discrimination. After a police officer had hit a lesbian over the head as he forced her into the police van, she shouted to onlookers to act, encouraging the crowd to fight back by throwing items like pennies and bottles, cobblestones, and other objects at the police.
The crowd took mere minutes to transform into a full-blown riot that involved hundreds of people. The police were outnumbered, and some even barricaded themselves in the bar (along with a few prisoners and a newspaper reporter) to avoid the increasingly vengeful crowd outside.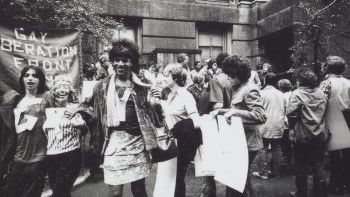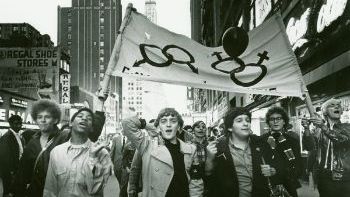 Protesters marching near The Stonewall Inn
The raucous crowd became so incensed they tried to burn down the Inn by setting it on fire. The fire department was able to put out the fire before it caused injuries or death and rescued those insides, but the riots continued like this for five more days, with crowds between hundreds and thousands of people.
AFTERMATH

The enormity of the riots became a catalyst for not only the gay rights movement but also a galvanizing force behind LGBTQ+ activism.
On June 28, 1970–the one-year anniversary of the Stonewall Rebellion–thousands of people marched the streets of New York City from Stonewall Inn to Central Park in what was at the time called "Christopher Street Liberation Day"–America's first Gay Pride parade. Their official chant: "Say it loud, gay is proud."
Parents with LGBTQ+ kids joined the march to show their solidarity and support for their kids and their community. Even among the chaos and backlash, these parents showed up and advocated for their kids.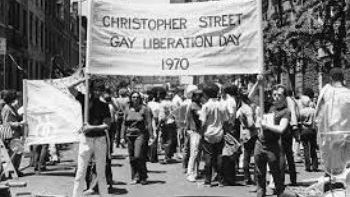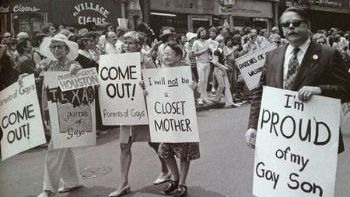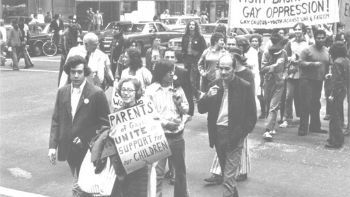 L: Advocates marching in the first-ever Pride Parade, June 28, 1970 NYC;
M & R: Parents advocating for their kids during the first Pride march in NYC 1970
LEGACY
June was first officially declared Pride Month in 1999. A national monument was designated in 2016 at the site of the riots, including Stonewall Inn, Christopher Park, and the surrounding streets and sidewalks.
The global impact of The Stonewall Rebellion has resulted in activists across the world echoing the demand for equal rights. By the early 1970s, LGBTQ organizations and nonprofits also started up in Canada, Australia, and Western Europe.
As of today, 27 countries have legalized same-sex marriage, though, in 57 other countries, homosexuality and dressing in drag are still illegal. However, despite the enormous amounts of danger in some countries, trans pride activists continue the movement, hoping to one day change the world for the better.
The Stonewall Rebellion has gone down in history as the riot that changed America and the world's LGBTQ+ rights forever.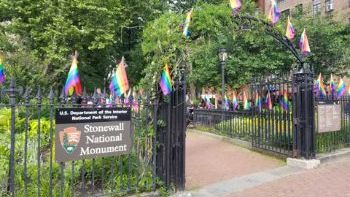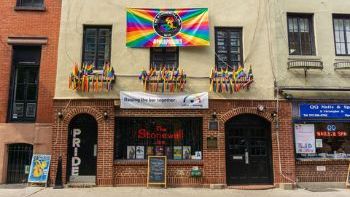 Left: Entrance to The Stonewall Inn Memorial in NYC's Christopher Park;
Right: Modern-day Stonewall Inn Memorial in NYC (site of original Stonewall Inn)
The Inspirational Women Behind The Stonewall Inn Rebellion
MARSHA P. WASHINGTON
Marsha P. Washington once told a judge the 'P' in her name stood for "pay it no mind." A staple in NYC's drag community, Marsha was known to some as a "drag mother" and "The Saint of Christopher Street " due to her big heart and selfless work in helping unhoused youth in need. In her own words, she was arrested over 100 times and was a violent alcoholic who was ultimately banned from most NYC gay bars. Though her personality was described as "difficult", she was a model for Andy Warhol, drag queen, sex worker, budding actress, and a compassionate philanthropist. She continued her selfless work until her (still unexplained) death in 1992.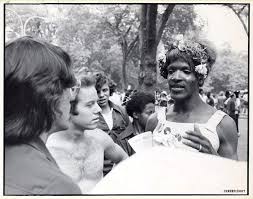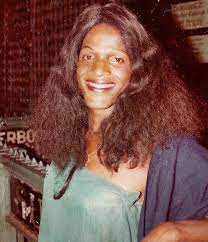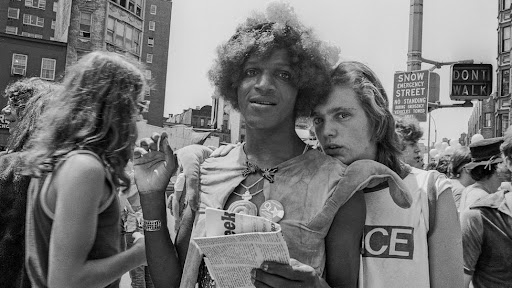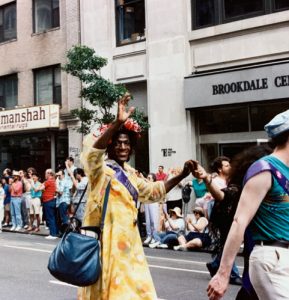 SYLVIA RIVERA
A trans Latina woman and close friend of Marsha P. Johnson, Silvia was a life-long New Yorker and a fixture of NYC's drag scene. In 1970, post-Stonewall, Sylvia Rivera and Marsh P. Washington, along with other advocates, founded S.T.A.R. (Street Transvestite Action Revolutionaries), a support organization to help trans sex workers as well as LGBTQ+ youth in NYC. As both women were survivors of abuse and exploitation, they felt strongly about providing a safe space for other marginalized at-need individuals. After a full life of continuous fighting for trans rights, Sylvia passed away in 2002 while living at S.T.A.R. house. The Sylvia Rivera Law Project is an organization aimed to continue her mission of working with at-risk trans people, with a special focus on helping immigrants, the incarcerated, and those lacking essential services.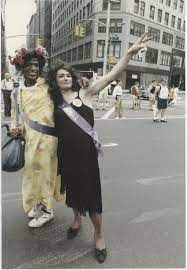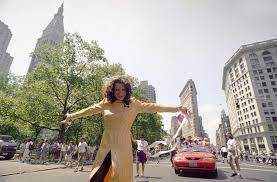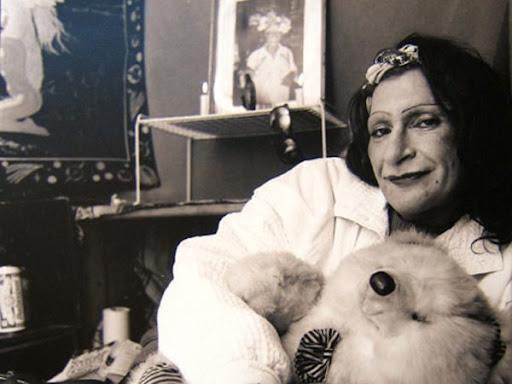 BUBBLES ROSE LEE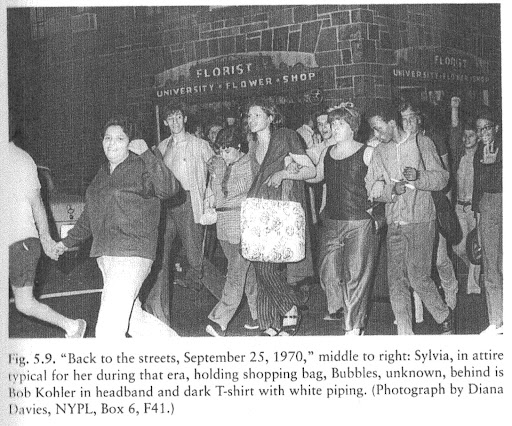 Not much is known of Bubbles. After the formation of S.T.A.R. Bubbles Rose Lee (or Bubbles Rose Marie) used her connections with the mafia and led the acquisition of a dilapidated building in NYC, with no electricity or plumbing, which became the S.T.A.R. house. She was the Secretary for S.T.A.R. house; however, after several months of non-payment of rent, the mafia came knocking for Bubbles and told her if they didn't pay up, she was dead. Bubbles skipped town and in July 1971, the S.T.A.R. house and its 20-something residents were evicted. Bubbles' whereabouts after that are not known, though the word is she was arrested and extradited to Louisiana to face serious charges, possibly murder.
MISS MAJOR GRIFFIN-GRACY
An activist for over 50 years, Miss Major has spoken out loudly of her time in Attica State Prison (a men's only prison), and has tirelessly fought against the abuse of incarcerated trans people. Though the focus of her advocacy was girls, trans women of color who are survivors of police brutality and have been incarcerated in men's prisons have been a non-stop passion for her. To many in her community, she is simply "Mama".
She was the first executive director of Transgender Gender-Variant and Intersex Justice Project, a nonprofit specializing on fighting the mistreatment of marginalized prisoners. She also executively produced the documentary Trans in Trumpland, a series focused on four trans people and how they dealt with the nationwide spread of anti-trans legislation.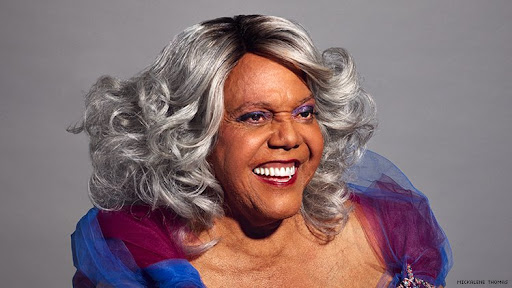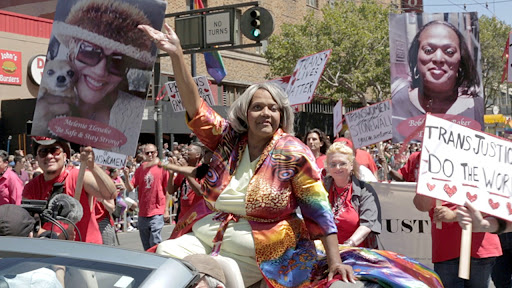 STORME DELARVERIE
Stormé DeLarverie was a butch lesbian and male drag impersonator, performing regularly at The Jewel Box Revue.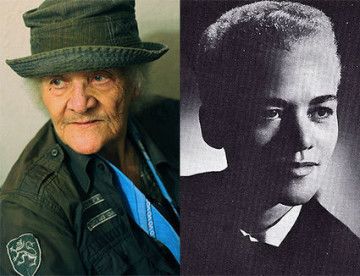 Born in New Orleans to a Black mother who worked for her White father's family, Stormé faced discrimination and bullying her whole life, or as she called it–"ugliness". She never had a birth certificate, and was never sure how old she really was, though it's thought she was born on Christmas Eve, 1920. 
Around age 18 she realized she was gay, and from then on she found love and solace with her partner of over 25 years, a dancer, Diane. Though Diane died in 1970, Stormé always carried a photo of Diane with her at all times until her death in 2014. 
Based on eyewitness accounts, it is thought that Stormé DeLarverie possibly threw the first punch at police, starting the rioting at Stonewall.
For these brave women, it's imperative that we not allow their humanity to be lost between their struggles for survival and the tireless efforts they made pushing for liberation and equal rights.
Hear firsthand accounts of The Stonewall Rebellion and its impact from Americans who experienced it:
https://www.pbs.org/wgbh/americanexperience/features/stonewall-participants/
Recent posts